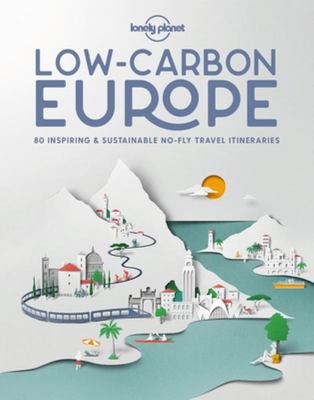 $40.00
NZD
Category: Travel | Series: Lonely Planet Ser.
  You don't need to take a flight to experience the best of Europe. The continent's high-speed and sleeper trains, electric vehicle recharging network and extensive cycle routes mean that it's possible to travel widely leaving a smaller carbon footprint. This collection of 80 detailed trip itineraries opens your eyes to what is possible without air travel. ...Show more
$150.00
NZD
Category: Travel
Michael Poliza is more than a seasoned globetrotter who has traveled through almost 170 countries. He is also a collector of the world, always on the lookout for breathtaking landscapes, remote regions, and intact nature reserves. With his camera ever on hand, Poliza does not only want to experience the beauty of the planet, but also to make it accessible to all. In his two great books, Africa and Eyes over Africa, as well as his single volumes on South Africa, Kenya, and Namibia, Poliza opened our eyes to the diversity of the African continent. In AntArctic, the WWF ambassador created a sensitive double portrait of the polar regions. And in his characteristic aerial photographs, he even opened up new perspectives on well-known places like Mallorca. In this trade edition of The World, Poliza opens his digital treasure chest to reveal previously unpublished images from all seven continents. Like a true photographic world tour, we travel with him to Australia and New Zealand, to Vietnam and Myanmar, to the west of the USA and north to Canada, to the Galapagos Islands and Bolivia, across the Antarctic and the many lands of Africa. No matter how different the regions he explores, the photographer always captures extraordinary images, instilling both the beauty of our planet and an urgent need to protect the natural world. SELLING POINTS: A photographic tribute to our planet in 200 captivating and immersive images. Original XXL edition hailed by The Guardian as "this year's outstanding travel book". A spectacular book for all those who love travel, photography, and the natural environment. 220 colour photographs ...Show more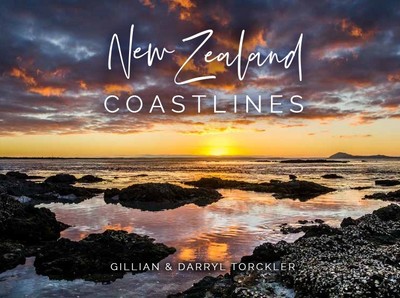 $30.00
NZD
Category: New Zealand Travel
 Pictorial book about New Zealand divided geographically  Features the stunning images of innovative photographer Darryl Torckler and the inspired words of Gillian Torckler.  North: Bay of Islands to the Cape, down to 90-mile beach and Hokianga. Includes the Poor Knights.  East: from the Bay o f Islands to Napier, including the outer Hauraki Gulf and islands, White Island.  South: South Island, including all of the southern east coast, Stewart Island, Fiordland.  West: west coast of the South Island to the North Island's west coast (Piha, Bethells etc).  Central: Wellington, Marlborough, Nelson and Tasman District Darryl Torckler:  New Zealand specialist photographer  Taking underwater photographs for more than 40 years in New Zealand and the South Pacific. Darryl always dreamed of writing a book.  His natural history photographs have received won over 100 international awards. Gillian Torckler:  Gillian and Darryl have produced 13 books between them.  Has a PhD in medical science and specialises in ultrasound imaging of the heart.  Gillian and Darryl divide their time between Warkworth and Dunedin, New Zealand ...Show more
$30.00
NZD
Category: Travel | Series: Lonely Planet Kids Ser.
Bringing planet earth to life, this colourful and fun addition to Lonely Planet Kids takes you on a trip around the world that you'll never forget. Filled with continental and regional maps, lively text, an entry for every country on the planet, plus mind-blowing facts, and an emphasis on the species th at live on our planet, this is an essential resource for young readers wanting to learn about the world. With 240 pages of illustrated maps, engaging infographics, mind-blowing photography and a large dose of humour, this fun and informative world guide, written by children's author and wildlife enthusiast Alexa Ward, is the definitive guide to what our planet is really like.  From exploration of indigenous peoples all over the globe, to illustrations of festivals in Brazil and each country's individual history, young readers will be enticed to go on a journey to some of the furthest corners of the globe, learning intriguing facts as they go. Take a trip around the world that you'll never forget with the Amazing World Atlas! About Lonely Planet Kids: Lonely Planet Kids - an imprint of the world's leading travel authority Lonely Planet - published its first book in 2011. Over the past 45 years, Lonely Planet has grown a dedicated global community of travellers, many of whom are now sharing a passion for exploration with their children. Lonely Planet Kids educates and encourages young readers at home and in school to learn about the world with engaging books on culture, sociology, geography, nature, history, space and more. We want to inspire the next generation of global citizens and help kids and their parents to approach life in a way that makes every day an adventure. Come explore!   ...Show more
$37.00
NZD
Category: New Zealand Travel | Series: Travel Guide Ser.
Lonely Planet: The world's number one travel guide publisher* Lonely Planet Best Day Walks New Zealand is your passport to 60 easy escapes into nature. Stretch your legs away from the city by picking a walk that works for you, from just a couple of hours to a full day, from easy to hard. Wind your way a round volcanoes, feast your eyes on dramatic vistas, and scale breathtaking mountains. Get to the heart of New Zealand and begin your journey now! Inside Lonely Planet Best Day Walks New Zealand Travel Guide:  Colour maps and images throughout Special features - on New Zealand's highlights for walkers, kid-friendly walks, accessible trails and what to take Best for... section helps you plan your trip and select walks that appeal to your interests Region profiles cover when to go, where to stay, what's on, cultural insights, and local food and drink recommendations to refuel and refresh. Featured regions include: The North, Central North Island, Southern North Island, Top of the South, Canterbury, West Coast, Otago, The South Essential info at your fingertips - walk itineraries accompanied by illustrative maps are combined with details about walk duration, distance, terrain, start/end locations and difficulty (classified as easy, easy-moderate, moderate, moderate-hard, or hard) Over 65 maps The Perfect Choice: Lonely Planet Best Day Walks New Zealand, our most comprehensive guide to walking in New Zealand, is perfect for those planning to explore New Zealand on foot. Looking for more information on New Zealand? Check out Lonely Planet New Zealand guide for a comprehensive look at what the country has to offer. Authors: Written and researched by Lonely Planet, and Craig McLachlan, Andrew Bain & Peter Dragicevich. About Lonely Planet: Lonely Planet is a leading travel media company and the world's number one travel guidebook brand, providing both inspiring and trustworthy information for every kind of traveller since 1973. Over the past four decades, we've printed over 145 million guidebooks and phrasebooks for 120 languages, and grown a dedicated, passionate global community of travellers. You'll also find our content online, and in mobile apps, video, 14 languages, armchair and lifestyle books, ebooks, and more, enabling you to explore every day. Lonely Planet enables the curious to experience the world fully and to truly get to the heart of the places they find themselves, near or far from home. Follow us on Facebook (facebook.com/lonelyplanet), Twitter (@lonelyplanet), Instagram (Instagram.com/lonelyplanet) and Snapchat (@lonelyplanet). TripAdvisor Travelers' Choice Awards 2012, 2013, 2014, 2015 and 2016 winner in Favorite Travel Guide category 'Lonely Planet guides are, quite simply, like no other.' - New York Times 'Lonely Planet. It's on everyone's bookshelves; it's in every traveller's hands. It's on mobile phones. It's on the Internet. It's everywhere, and it's telling entire generations of people how to travel the world.' - Fairfax Media (Australia) *Source: Nielsen BookScan: Australia, UK, USA, 5/2016-4/2017   ...Show more
$40.00
NZD
Category: New Zealand Travel
35 trips that highlight some of the most interesting, scenic and rewarding railway journeys in Australia and New Zealand. They include the renowned long-distance journeys, such as The Indian Pacific in Australia that takes travellers on a three-day trip from Perth to Sydney or the The Northern Explorer in New Zealand's North Island that stretches from Wellington to Auckland, as well as those that traverse stunning scenery, such as New Zealand's TranzAlpine train or the Spirit of the Outback in Australia. There are also routes on which restored steam locomotives operate and other lines included for the wonder of their engineering. Trains are a great way to travel in these countries, taking you at ground level past superb scenery that often cannot be seen by any other means of transport. David Bowden's entertaining text describes the route, the major features of interest along the way and any special technical details about the locomotive or the track. ...Show more
$60.00
NZD
Category: Travel
Like many Brits, Dick and Angel had long dreamed of living in France, but where others might settle for a modest bolthole in the French countryside, the Strawbridges fell in love with a 19th-century fairytale chateau, complete with 45 rooms, seven outbuildings, 12 acres of land and its own moat. Throwi ng caution to the wind, Dick and Angel swapped their two-bedroom flat in East London for an abandoned and derelict castle in the heart of the Loire valley and embarked on the adventure of a lifetime with their two young children Arthur and Dorothy. Sharing their full journey for the first time, A Year at the Chateau follows Dick and Angel from when they first moved to France in the depths of winter and found bedrooms infested with flies, turrets inhabited by bats, the wind rattling through cracked windows, and just one working toilet, which flushed into the moat, through to the monumental efforts that went into readying the chateau for their unforgettable wedding and their incredibly special first Christmas. Along the way we'll read glorious descriptions of rural life in France, with charming characters, delicious food and wonderful seasonal produce, together with the extraordinary list of renovations and restorations Dick and Angel completed, many of which were not shown on TV. As warm and entertaining as their much-loved show, A Year at the Chateau is a truly irresistible story of adventure and heart, epic ambitions and a huge amount of hard graft. ...Show more
$40.00
NZD
Category: Travel
The author of the beloved No.1 bestseller The Shepherd's Life returns with a stirring history of family, loss and the land over three generations on a Lake District farm 'A beautifully-written story of a family, a home and a changing landscape.' - Nigel Slater 'Just about perfect.' - Wendell Berry Ja mes Rebanks was taught by his grandfather to work the land the old way. Their family farm in the Lake District hills was part of an ancient agricultural landscape: a patchwork of crops and meadows, of pastures grazed with livestock, and hedgerows teeming with wildlife. And yet, by the time James inherited the farm, that landscape had profoundly changed. The men and women had vanished from the fields; the old stone barns had crumbled; the skies had emptied of birds and their wind-blown song. English Pastoral is the story of an inheritance: one that affects us all. It tells of how rural landscapes around the world were brought close to collapse, and how the age-old rhythms of work, weather, community and wild things were lost. But this elegy from the northern fells is also a song of hope: of how, guided by the past, one farmer began to salvage a tiny corner of England that was now his, doing his best to restore the life that had vanished and to leave a legacy for the future. This is a book about what it means to have love and pride in a place, and how, against the odds, it may still be possible to build a new pastoral: not a utopia, but somewhere decent for us all.   ...Show more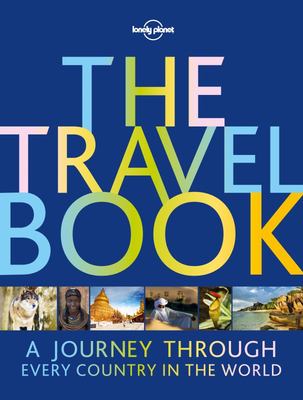 $90.00
NZD
Category: Travel | Series: General Pictorial Ser. | Reading Level: General Adult
Lonely Planet: The world's leading travel guide publisher Take a journey through every country in the world. 850 images. 230 countries. One complete picture. With details of every United Nations-approved country in the world, and a few more principalities and dependencies besides, Lonely Planet's Trav el Book is the ultimate introduction to a world of travel and the essential travel reference book for every household Each country is profiled by Lonely Planet's expert authors and features details of when to visit, what to see and do, and how to learn more about the country's culture from its film, music, food and drink. Every entry has a map and statistics about the country. All brand new, incredible photography illustrates each country, depicting what life is like in each nation from photographic portraits of people, beautiful landscape photographs and vibrant street photography. About Lonely Planet: Started in 1973, Lonely Planet has become the world's leading travel guide publisher with guidebooks to every destination on the planet, gift and lifestyle books and stationery, as well as an award-winning website, magazines, a suite of mobile and digital travel products, and a dedicated traveller community. Lonely Planet's mission is to enable curious travellers to experience the world and to truly get to the heart of the places they find themselves in. ...Show more
The Cities Book 2
by Lonely Planet Publications Staff
$80.00
NZD
Category: Travel | Series: Lonely Planet Ser.
Lonely Planet's bestselling The Cities Bookis back. Fully revised and updated, it's a celebration of 200 of the world's most exciting urban destinations, beautifully photographed and packed with trip advice and recommendations from our experts - making it the perfect companion for any traveller deciding where to visit next. - Highlights and itineraries help travellers plan their perfect trip - Urban tales reveal unexpected bites of history and local culture - Discover each city's strengths, best experiences and most famous exports - Includes the top ten cities for beaches, nightlife, food and more - Lonely Planet co-founder Tony Wheeler shares his all-time favourite cities - Fully revised and updated with the best cities to visit right now About Lonely Planet: Lonely Planet is a leading travel media company and the world's number one travel guidebook brand, providing both inspiring and trustworthy information for every kind of traveller since 1973. Over the past four decades, we've printed over 145 million guidebooks and grown a dedicated, passionate global community of travellers. You'll also find our content online, on mobile, video and in 14 languages, 12 international magazines, armchair and lifestyle books, ebooks, and more. TripAdvisor Travelers' Choice Awards 2012, 2013, 2014, 2015 and 2016 winner in Favorite Travel Guide category 'Lonely Planet guides are, quite simply, like no other.' - New York Times 'Lonely Planet. It's on everyone's bookshelves; it's in every traveller's hands. It's on mobile phones. It's on the Internet. It's everywhere, and it's telling entire generations of people how to travel the world.' - Fairfax Media (Australia) ...Show more
$70.00
NZD
Category: Travel
An unsurpassable, visual tour of the greatest pilgrimage sites of Europe, from North to South; East to West Pilgrimage in Europe is currently thriving on a scale that simply could not have been envisaged just a few decades ago. Not only are greater numbers of people now emulating the medieval pilgrims w ho made their way on foot across Europe to the shrines of martyred apostles in Rome (Peter and Paul) and Santiago de Compostela (James), but millions each year are also travelling by air, rail, road and foot to the world famous sites of Marian Apparition such as Lourdes (France), Fatima (Portugal), Knock (Ireland). These three sites alone receive almost 12 million pilgrims a year between them.This book covers all the key pilgrimage sites across Europe, as well the lesser known ones such as La Salette in the French Alps which, despite its remoteness still attracts almost 1.5 million visitors each year, many of whom are pilgrims on retreat. It will comprise a blend of the atmospheric pilgrimage churches adorned with sculpture, art and iconography associated not only with the Virgin Mary but also the national saints and Early Christian martyrs revered by both Catholic and Anglican faiths alike. En route the reader will see some of the world's most impressive examples of medieval art and architecture set amidst historic townscapes or spectacular landscapesThis volume will serve as both an enticement to take to the road, a treasured aide memoire for those who have visited at least some of these iconic places and a source of comfort for those who would never be able to travel abroad from wherever they live in the world. ...Show more