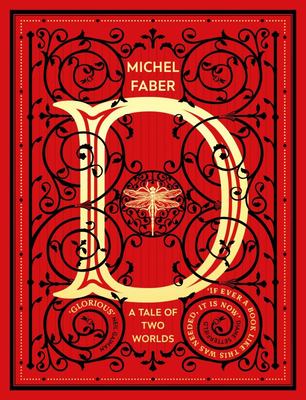 $37.00
NZD
Category: Science Fiction/Fantasy
'Glorious. A story that will be found and enjoyed and dreamed about for years to come. I loved it' NEIL GAIMAN. A contemporary Dickensian fable about moral courage and self-determination by the acclaimed author of The Crimson Petal and the White. 12-year-old Dhikilo was born in a faraway country, thou gh she's doing her best to feel at home with her new parents in the crumbly seaside town of Cawber-on-Sands. Until one day, the letter D disappears from the language, and Dhikilo is the only person who notices it's gone. You'd think the loss of one little letter wouldn't make much of a ifference to aily life. But it actually makes things very ifficult and, eventually, quite esperate. Determined to rescue the D, Dhikilo teams up with her old history teacher, Professor Dodderfield. In moments, she is in the wintery land of Liminus where she meets the Magwitches, the Quilps, the Spottletoes, and other strange tribes. Can she escape from the terrifying Bleak House? Can she stop the D from disappearing for ever? And can Dhikilo - a girl with no past and no country - discover who she is and where she really belongs? ...Show more
$38.00
NZD
Category: Science Fiction/Fantasy
To Sleep in a Sea of Stars is a brand new epic novel from New York Times bestselling author Christopher Paolini. Exploring new worlds is all Kira Navarez ever dreamed of doing. But now she has found her nightmare.  On a distant planet ripe for a colony, she has discovered a relic previously unseen by human eyes.   It will transform her entirely and forever.   Humanity will face annihilation.   She is alone. We are not.   There is no going back.   ...Show more
$25.00
NZD
Category: Science Fiction/Fantasy | Series: A Song of Ice and Fire
#1 NEW YORK TIMES BESTSELLER - The history of the Targaryens comes to life in this masterly work, the inspiration for HBO's upcoming Game of Thrones prequel series House of the Dragon"The thrill of Fire & Blood is the thrill of all Martin's fantasy work: familiar myths debunked, the whole trope tabl e flipped."--Entertainment Weekly   Centuries before the events of A Game of Thrones, House Targaryen--the only family of dragonlords to survive the Doom of Valyria--took up residence on Dragonstone. Fire & Blood begins their tale with the legendary Aegon the Conqueror, creator of the Iron Throne, and goes on to recount the generations of Targaryens who fought to hold that iconic seat, all the way up to the civil war that nearly tore their dynasty apart.What really happened during the Dance of the Dragons? Why was it so deadly to visit Valyria after the Doom? What were Maegor the Cruel's worst crimes? What was it like in Westeros when dragons ruled the skies? These are but a few of the questions answered in this essential chronicle, as related by a learned maester of the Citadel and featuring more than eighty all-new black-and-white illustrations by artist Doug Wheatley. Readers have glimpsed small parts of this narrative in such volumes as The World of Ice & Fire, but now, for the first time, the full tapestry of Targaryen history is revealed.   With all the scope and grandeur of Gibbon's The History of the Decline and Fall of the Roman Empire, Fire & Blood is the the first volume of the definitive two-part history of the Targaryens, giving readers a whole new appreciation for the dynamic, often bloody, and always fascinating history of Westeros.   Praise for Fire & Blood   "A masterpiece of popular historical fiction." --The Sunday Times   "The saga is a rich and dark one, full of both the title's promised elements. . . . It's hard not to thrill to the descriptions of dragons engaging in airborne combat, or the dilemma of whether defeated rulers should 'bend the knee, ' 'take the black' and join the Night's Watch, or simply meet an inventive and horrible end."--The Guardian ...Show more
$28.00
NZD
Category: Science Fiction/Fantasy
***NOW A MAJOR MOTION PICTURE DIRECTED BY STEVEN SPIELBERG***A world at stake. A quest for the ultimate prize. Are you ready? It's the year 2044, and the real world has become an ugly place. We're out of oil. We've wrecked the climate. Famine, poverty, and disease are widespread. Like most of humanity, Wade Watts escapes this depressing reality by spending his waking hours jacked into the OASIS, a sprawling virtual utopia where you can be anything you want to be, where you can live and play and fall in love on any of ten thousand planets. And like most of humanity, Wade is obsessed by the ultimate lottery ticket that lies concealed within this alternate reality- OASIS founder James Halliday, who dies with no heir, has promised that control of the OASIS - and his massive fortune - will go to the person who can solve the riddles he has left scattered throughout his creation. For years, millions have struggled fruitlessly to attain this prize, knowing only that the riddles are based in the culture of the late twentieth century. And then Wade stumbles onto the key to the first puzzle.Suddenly, he finds himself pitted against thousands of competitors in a desperate race to claim the ultimate prize, a chase that soon takes on terrifying real-world dimensions - and that will leave both Wade and his world profoundly changed.   ...Show more
$25.00
NZD
Category: Science Fiction/Fantasy
A sweeping tale of revolution and wonder in a world not quite like our own, A Declaration of the Rights of Magicians is a genre-defying story of magic, war, and the struggle for freedom in the early modern world.   It is the Age of Enlightenment, of new and magical political movements, from the necrom ancer Robespierre calling for revolution in France, to the weather mage Toussaint L'Ouverture leading the slaves of Haiti in their fight for freedom, to the bold new Prime Minister William Pitt weighing the legalization of magic amongst commoners in Britain and abolition throughout its colonies overseas.   But amidst all of the upheaval of the early modern world, there is an unknown force inciting all of human civilization into violent conflict. And it will require the combined efforts of revolutionaries, magicians, and abolitionists to unmask this hidden enemy before the whole world falls to darkness and chaos.   For more from H. G. Parry, check out The Unlikely Escape of Uriah Heep. ...Show more
$35.00
NZD
Category: Science Fiction/Fantasy
Don't Panic! Collected together in the Hitchhiker's Guide Trilogy are the five titles that comprise Douglas Adams' wildly popular and wholly remarkable comedy science fiction series, with a special introduction from the author. The Hitchhiker's Guide to the Galaxy: One Thursday lunchtime the Earth ge ts unexpectedly demolished to make way for a new hyperspace bypass. For Arthur Dent, who has only just had his house demolished that morning, this seems already to be rather a lot to cope with. Sadly, however, the weekend has only just begun. The Galaxy may offer a mind-boggling variety of ways to be blown up and/or insulted, but it's very hard to get a cup of tea. The Restaurant at the End of the Universe: When all questions of space, time, matter and the nature of being have been resolved, only one question remains - 'Where shall we have dinner?' The Restaurant at the End of the Universe provides the ultimate gastronomic experience, and for once there is no morning after to worry about. Life, the Universe and Everything: Following a number of stunning catastrophes, Arthur Dent is surprised to find himself living in a hideously miserable cave on prehistoric Earth. However, just as he thinks that things cannot get possibly worse, they suddenly do. An eddy in the space-time continuum lands him, Ford Prefect, and their flying sofa in the middle of the cricket ground at Lord's, just two days before the world is due to be destroyed by the Vogons. Escaping the end of the world for a second time, Arthur, Ford, and their old friend Slartibartfast embark (reluctantly) on a mission to save the whole galaxy from fanatical robots. Not bad for a man in his dressing gown... So Long, and Thanks for All the Fish: There is a knack to flying. The knack lies in learning how to throw yourself at the ground and miss. It's not an easy thing to do, and Arthur Dent thinks he's the only human who's been able to master this nifty little trick - until he meets Fenchurch, the woman of his dreams. Fenchurch once realised how the world could be made a good and happy place. Unfortunately, she's forgotten. Convinced that the secret lies within God's Final Message to His Creation, they go in search of it. And, in a dramatic break with tradition, actually find it... Mostly Harmless: Arthur Dent has settled down on the small planet Lamuella and has embraced his role as a Sandwich Maker. However, his plans for a quiet life are thrown awry by the unexpected arrival of his daughter. There's nothing worse than a frustrated teenager with a copy of the Hitchhiker's Guide to the Galaxy in their hands. When she runs away, Arthur goes after her determined to save her from the horrors of the universe. After all - he's encountered most of them before... Share and enjoy Douglas Adams' mega-selling trilogy in five parts - now in one handy paperback volume - charting the whole of Arthur Dent's hilariously strange odyssey through space and time. ...Show more
$14.00
NZD
Category: Science Fiction/Fantasy | Series: Popular Penguins
The night after a shooting star is seen streaking across the sky, a cylinder is discovered near London. Armed with just a white flag, the locals approach the mysterious object only to be burned alive by heat-rays as horrific, tentacled invaders emerge. Soon, the whole of human civilization is under thre at, as powerful Martians move across the land in massive killing machines, armed with black gas and burning rays. The aliens are determined to win the Earth for themselves. ...Show more
$25.00
NZD
Category: Science Fiction/Fantasy | Series: All Souls Ser.
*Now a major Sky TV series. A Discovery of Witches Season 2 coming soon.* *Read the novel Season 2 is based on.* Fall deeper under the spell of Diana and Matthew in the captivating second volume of the No.1 internationally bestselling ALL SOULS trilogy, following A DISCOVERY OF WITCHES. Perfect for fa ns of Neil Gaiman, Diana Gabaldon and J. K. Rowling. In a world of witches, daemons and vampires the fragile balance of peace is unravelling. Diana and Matthew's forbidden love has broken the laws dividing creatures. To discover the manuscript which holds their hope for the future, they must now travel back to the past. When Diana Bishop, descended from a line of powerful witches, discovered a significant alchemical manuscript in the Bodleian Library, she sparked a struggle in which she became bound to long-lived vampire Matthew Clairmont. Now the coexistence of witches, daemons, vampires and humans is dangerously threatened. Seeking safety, Diana and Matthew travel back in time to London, 1590. But they soon realise that the past may not provide a haven. Reclaiming his former identity as poet and spy for Queen Elizabeth, the vampire falls back in with a group of radicals known as the School of Night. Many are unruly daemons, the creative minds of the age, including playwright Christopher Marlowe and mathematician Thomas Harriot. Together Matthew and Diana scour Tudor London for the elusive manuscript Ashmole 782, and search for the witch who will teach Diana how to control her remarkable powers...   ...Show more
$25.00
NZD
Category: Science Fiction/Fantasy | Series: The\Three-Body Problem Ser.
Half a century after the Doomsday Battle, the uneasy balance of Dark Forest Deterrence keeps the Trisolaran invaders at bay. Earth enjoys unprecedented prosperity due to the infusion of Trisolaran knowledge and, with human science advancing and the Trisolarans adopting Earth culture, it seems that the two civilizations can co-exist peacefully as equals without the terrible threat of mutually assured annihilation. But peace has made humanity complacent. Cheng Xin, an aerospace engineer from the 21st century, awakens from hibernation in this new age. She brings knowledge of a long-forgotten program dating from the start of the Trisolar Crisis, and her presence may upset the delicate balance between two worlds. Will humanity reach for the stars or die in its cradle? 'Cixin Liu is the author of your next favourite sci-fi novel' Wired. 'A milestone in Chinese science fiction' New York Times. ...Show more
$25.00
NZD
Category: Science Fiction/Fantasy | Series: The\Three-Body Problem Ser.
Imagine the universe as a forest, patrolled by numberless and nameless predators. In this forest, stealth is survival - any civilisation that reveals its location is prey. Earth has. Now the predators are coming. Crossing light years, they will reach Earth in four centuries' time. But the sophons, the ir extra-dimensional agents and saboteurs, are already here. Only the individual human mind remains immune to their influence. This is the motivation for the Wallfacer Project, a last-ditch defence that grants four individuals almost absolute power to design secret strategies, hidden through deceit and misdirection from human and alien alike. Three of the Wallfacers are influential statesmen and scientists, but the fourth is a total unknown. Luo Ji, an unambitious Chinese astronomer, is baffled by his new status. All he knows is that he's the one Wallfacer that Trisolaris wants dead. 'China's answer to Arthur C. Clarke' The New Yorker. ...Show more
$24.00
NZD
Category: Science Fiction/Fantasy
THE SUNDAY TIMES TOP 5 BESTSELLER Are you lost or are you exploring? When Zachary Rawlins stumbles across a strange book hidden in his university library it leads him on a quest unlike any other. Its pages entrance him with their tales of lovelorn prisoners, lost cities and nameless acolytes, but they also contain something impossible: a recollection from his own childhood. Determined to solve the puzzle of the book, Zachary follows the clues he finds on the cover - a bee, a key and a sword. They guide him to a masquerade ball, to a dangerous secret club, and finally through a magical doorway created by the fierce and mysterious Mirabel. This door leads to a subterranean labyrinth filled with stories, hidden far beneath the surface of the earth. When the labyrinth is threatened, Zachary must race with Mirabel, and Dorian, a handsome barefoot man with shifting alliances, through its twisting tunnels and crowded ballrooms, searching for the end of his story. You are invited to join Zachary on the starless sea: the home of storytellers, story-lovers and those who will protect our stories at all costs. ...Show more
$27.00
NZD
Category: Science Fiction/Fantasy | Series: Vintage Magic Ser. | Reading Level: good
"The circus arrives without warning. No announcements precede it. It is simply there, when yesterday it was not. The black sign, painted in white letters that hangs upon the gates, reads- 'Opens at Nightfall, Closes at Dawn' the sun disappears beyond the horizon, all over the tents small lights begin to flicker, as though the entirety of the circus is covered in particularly bright fireflies. When the tents are all aglow, sparkling against the night sky, the sign appears. 'Le Cirque des Reves -  Circus of Dreams'. Now the circus is open. Now you may enter." ...Show more